KATO N Gauge Starter Set SL Freight Train 10-012 Model Train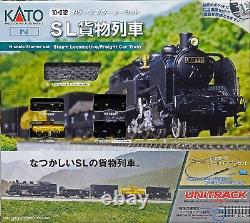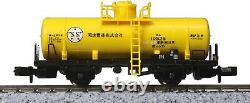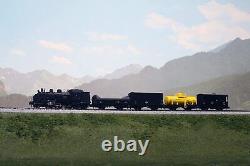 By adopting a power unit with C11 flywheel, it is possible to tow about 6 old passenger cars with interior lights. · Headlights are lit, and the front and rear sides are lit in the direction of travel. · Selectable license plates: "174", "193", "223", "235" TAM 500 is a fictitious setting and commercialized with the original specification of the yellow tank (image of a liquefied chlorine exclusive car). The specifications of the Tiger 55000, Strawa 1 and Wahu 29500 are similar to the 8068 Tiger 55000 (with load cover) 8025 Straw 1 8030 Wahu 29500 respectively.
The Unitrack track consists of one endless lap equivalent to the M1 set. The power pack uses the easy-to-use, high-output (1.2A) "Power Pack Standard SX" and "Starter AC Adapter". The included plan variation guide is a treasure trove of railway plans. You can enjoy more expansive system deployment. There is a secret pocket inside the package where you can store the case of the car set you bought later, the tracks, etc.
Package size common to M1 set (size width 390× height 355×depth 110) Model railway is a system that supplies power from rails. Batteries are not used even when running, emitting light, or lighting. This product does not include batteries.
No fuel is used for this product. This product does not include fuel. This product does not include paint. Most products are Japanese products and the manuals are in Japanese. If you want to know used condition and accessories, please message.
All my products are 100% Authentic! Your total satisfaction is guaranteed and is always our sincere wish.
International Buyers - Please Note. If you have any questions or items you look for, plase let us know anytime!