KATO N Gauge Scale DB ICE4 Green Line #9034 4-Car Basic Set Model Train 10-1542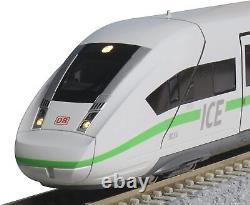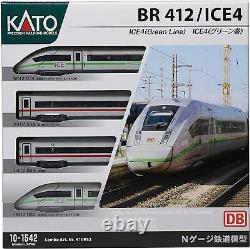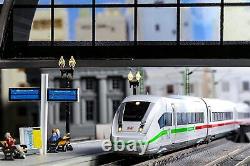 The prototype is 9034 formation. Set a car number different from existing products. Beautifully reproduces the green belt on the front side of the leading car, the design of the plug, and the logos. Black-dyed wheels are used according to the appearance image of the actual vehicle.
Accurately reproduce the notations such as signs and car numbers placed in various parts of the car body. One motor car is built into each of the basic set and the add-on set. Considering the cooperation of motor vehicles, the motor vehicle of the add-on set does not have traction tires.
Stable running is possible by adopting a power unit with a flywheel. Built-in lighting board for interior lighting that matches the length of the car body. It can be turned on by combining it with an optional interior light set. The intermediate connecting part uses a coupler that reproduces the entire circumference holo and is easy to connect.
Head / tail lights lit. The headlight uses a light bulb color LED. The book case of the add-on set uses a book case with a large width that matches the length of the vehicle. The basic set of vehicles can be stored in the add-on set A.
The model railroad is a system that supplies power from rails. Batteries are not used even when running, emitting light, or lighting. Batteries are not included in this product. No fuel is used for this product. Fuel is not included in this product.
Paint is not included in this product. International Buyers - Please Note.