KATO N Gauge OUIGO 10-Car Set 10-1763 Model Train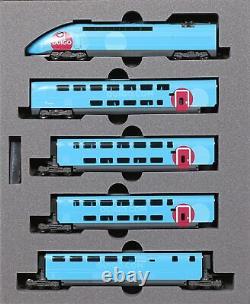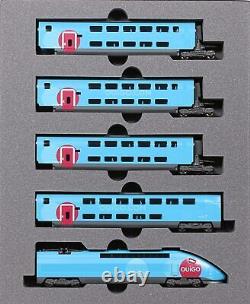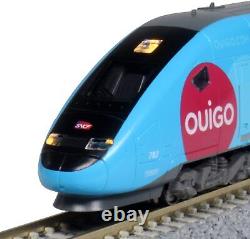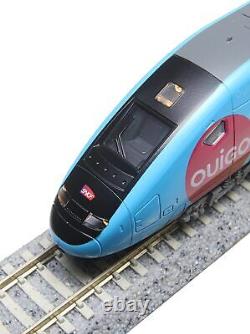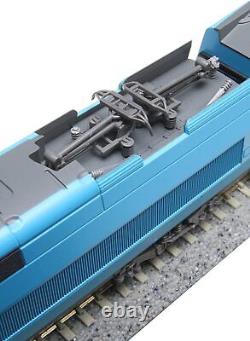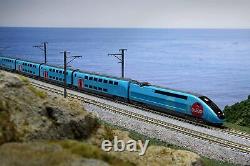 KATO N Gauge OUIGO 10-Car Set 10-1763 Model Train. The locomotives at both ends of the formation have a revocation at the bottom of the front glass blocked and antennas added on the roof with a new body. A new pantograph is adopted.
Pantographs for AC and DC are made separately some shapes are different from actual vehicles. The vivid light blue that is characteristic of "OUIGO" and the large polka dot pattern and logo mark drawn on each vehicle are beautifully reproduced.
The crew compartment pickpockets, shoes, passenger car door handles, and door rails are represented in silver. The interior color of all passenger cars is reproduced in sky blue. Adopting a power unit with a flywheel for stable driving.
Headlights/taillights on (with light bulb color LEDs). By replacing it with the attached dummy board, it is possible to reproduce the appearance of the lights turned off when the locomotives are combined. The coupler cover at the head of the locomotive can be removed, and the attached drawbar can be used to reproduce the same 20-car train as the actual car. The connection between the locomotive and the passenger car uses a drawbar similar to the new 10-1657 Thalys PBA paint.
DCC compatible Compatible with M1 and M2 with 6-pin socket. However, it is necessary to change the setting of the CV29 value of the decoder mounted on the M2 and reverse the control of the headlight / taillight Model railroad is a system that supplies power from rails. Batteries are not used even when running, emitting light, or lighting. This product does not include batteries. No fuel is used for this product.
This product does not include fuel. This product does not include paint. Most products are Japanese products and the manuals are in Japanese.
If you want to know used condition and accessories, please message. All my products are 100% Authentic! Your total satisfaction is guaranteed and is always our sincere wish. International Buyers - Please Note. If you have any questions or items you look for, plase let us know anytime!