AC Gilbert American Flyer S Gauge K5418T Steam Passenger Train Set RARE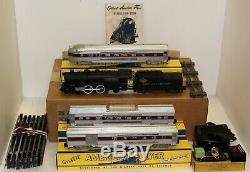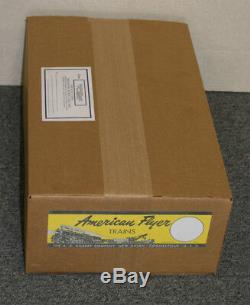 S years ago, and reconditioned with great care by 2 professionals right here in the Good Ole U. We proudly introduce our 2020 line-up from B&B Antique Trains. We are one of the most unique offering of completely repaired antique trains in the US.
We have been servicing and reconditioning American Flyer S Gauge trains since 1990, and this is our 29th year in providing a quality train set to people that want a piece of nostalgia, to share with children or grandchildren. All engines have been totally taken apart and serviced, all cars have been cleaned and repaired if needed. All sets have been test run. (See video below) We designed a repro set box very much like Gilbert used to use, engines come with corrugated wrappers like they did years ago, the cars come with repro boxes unless indicated as originals. Every set has a repro instruction book to give you all the information you need to get up and running. We include track that has been cleaned and tested, a power clip and a wire, and an appropriate transformer to power your train. You could almost believe it is Christmas time in the 50's once again. If you want to share a train with family, or want to replace one you had years ago and your parents gave it away, this is exactly what you are looking for. Kids of all ages will enjoy time spent together creating a layout under the tree, the fun of creating little scenes that add realism. If you have the Dept. 56 ceramic buildings, American Flyer trains are perfect size to add movement and action to your village. Keep a wonderful tradition alive and give this train a nice home, it has been waiting all these years just for you. I want to say a few things about the value added nature of our sets. So you go the cheap route, and you get an engine that won't run properly, couplers that are often stuck(link coupler are notorious for being stuck with age) These engines are 50 to 60 years old, often been neglected, and have things wrong with them.
The smoke unit may be fried, or completely hardened with old smoke fluid. B&B has done all that for you. Once properly serviced, they should last for many years with a little maintenance here and there. Another good example is the track we put in our sets. Track is old like the trains, was subject to bad storage conditions, or abused by someone without knowledge yanking the track off a platform, and ruining it.
When the pins have corrosion, the current does not flow as well. When we get a batch of track, probably 30 to 40 percent of it is bad, unusable. Each piece is tested for straightness, then it goes through a 30 step cleaning process including brightening the pins for better conductivity, finishing off with a large wire wheel on the top rails.
For the amount of track in just one of our sets, it takes 60 to 75 minutes to clean, to have a clean power clip, and some wire to attach to transformer. If we gave junk track, the train would not run right and our customers would get frustrated. We provide original or repro boxes, service the transformer, invest in an instruction booklet, sometime repro or original, but a great source for people to read and get a better understanding of their set. This set is a pretty rare Steam Passenger Set, the only passenger set with long silver cars and an Atlantic style engine. This set contains a 303 Atlantic style 4-4-2 engine with smoke and choo choo sound, pulling a 3 car combo of lighted chestnut stripe passenger cars, a 960 chestnut stripe combine car, a 962 chestnut stripe Vista Dome passenger car and a 963 chestnut stripe boat tail observation, a 1B 40 watt transformer, 12 curve and 4 straight track, power clip, wire, and an original instruction book. All cars have repro passenger car boxes, the engine has a repro wrapper, and a large repro set box. Engine has been thoroughly cleaned and serviced and runs great, I could not go past 2/3s throttle for fear it would go so fast it would fly off the track. The 962 car has an expertly repaired skirt on one corner. Fed Ex has had a stellar reputation with us for getting our products there in a timely and safe manner.
American Flyer K5418T Black Diamond Passenger Set - YouTube. The item "AC Gilbert American Flyer S Gauge K5418T Steam Passenger Train Set RARE" is in sale since Thursday, February 27, 2020. This item is in the category "Toys & Hobbies\Model Railroads & Trains\S Scale\Starter Sets & Packs".
The seller is "sb1photo" and is located in York Haven, Pennsylvania. This item can be shipped to United States.
Power Supply: AC
Type: Starter Set
Year: 1954
MPN: Does Not Apply
Gauge: Gilbert S Gauge
Brand: American Flyer
Grading: C-5 Good